Tonight I'm showing one of my latest orders. I was asked to make a pendant for a fan of... horror movies! Wow. I've been dreaming of miniatures devoted to popular movies for a long time, but I thought it would be something romantic like "Gone with the wind" or such...
But it had to be horror. Lots of versions, but the fave movie was chosen - SAW! I confess - I'm not a horror lover, absolutely. It was fun when I was a teen, Freddy and Jason and such trash, but I've grown up a little, horrors in real life are more than enough, so I'm not much into it, and having two little ladies around - daughters...
But I faced the challenge! Thanks to Wikipedia, I didn't have to watch it, plot and screenshots were enough for me =)
Покажу сегодня один недавний заказ. Попросили сделать кулон с микрошками для любительницы... фильмов ужасов! Ого.. Вообще я мечтала о миниатюре из какого-нибудь фильма давно, но представляла то "Служебный роман" (в этом году, кстати, фильм - юбиляр, 40 лет), то "Унесенных ветром", а уж никак не дебют в ужастиках %)
Стала думать, перебрали фильмы, от трэша до классики, от Ктулху до Хичкока. В итоге выбрали самый любимый фильм поклонницы жути - Пила.

Я ужастики в юности смотрела, нравилось под настроение, Фредди Крюггер так вообще уморительным персонажем был (эпизод, где собачка пописала и он восстал из могилы, запомнился своей нелепостью). А "подросла" и что-то уж не тянет, и в реальности гадостей и нервов хватает. Да ещё двое мелких детей у юбки, короче, не до ужасов.
Но решилась. Спасибо Википедии - не пришлось смотреть это милое кино =))) прочла синопсис и посмотрела скриншоты %)
After discussion with the customer, we settled for a floating locket with details: cut foot, chains, saw, blood.
Had to make it all at night - when my ladies were asleep, so that they wouldn't ask anything about it =))) It's so much "fun" to think about horrors and cut feet before the bedtime =))))
Обсудили с заказчицей и решили начинить локет, медальон, деталями из фильма. Отпиленная нога, кандалы, пила, кровь.
Делать пришлось ночью, чтоб дети не задавали лишних вопросов =)))) Хоррор на сон грядущий - то ещё развлечение, прям как в детстве "счастье, это когда бежишь из туалета в кроватку и радуешься, что тебя никто не съел"
Although - it's a bas impression of horror when thought about the movie and situation, but when you make it - it's simple. Anatomy. Make a foot, dollmakers do it daily! Separate hands, feet, legs... they only paint it differently, but it's also chemistry - make the color, no disgust. =) It's fun to place your own foot on the table and try to copy it with clay =)))
А вообще, расчленёнка - "Аааа, какой кошмар, фу, кровища..." - поверхностное впечатление. Когда делаешь - простая анатомия. Мастера-кукольники такое каждый раз творят, и руки, и ноги отдельно, потом только покраска другая %) Так что ноги на стол и лепить с натуры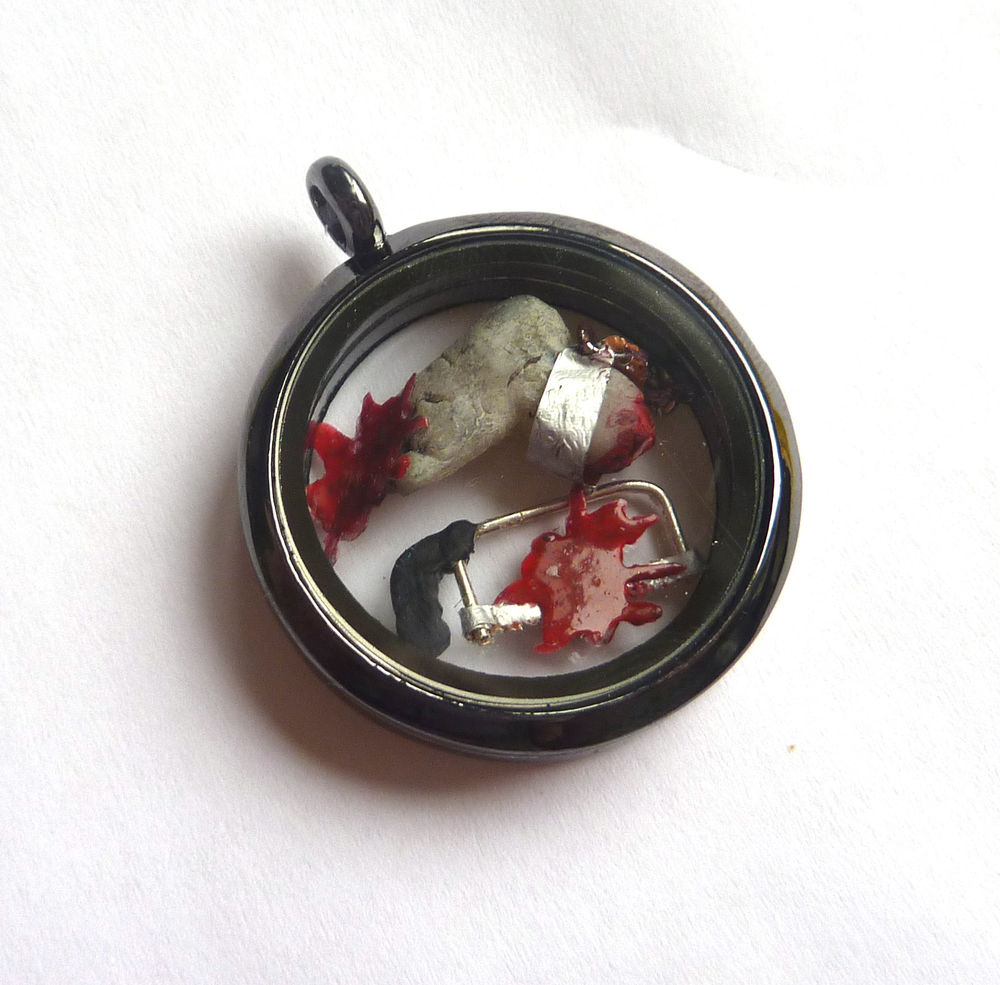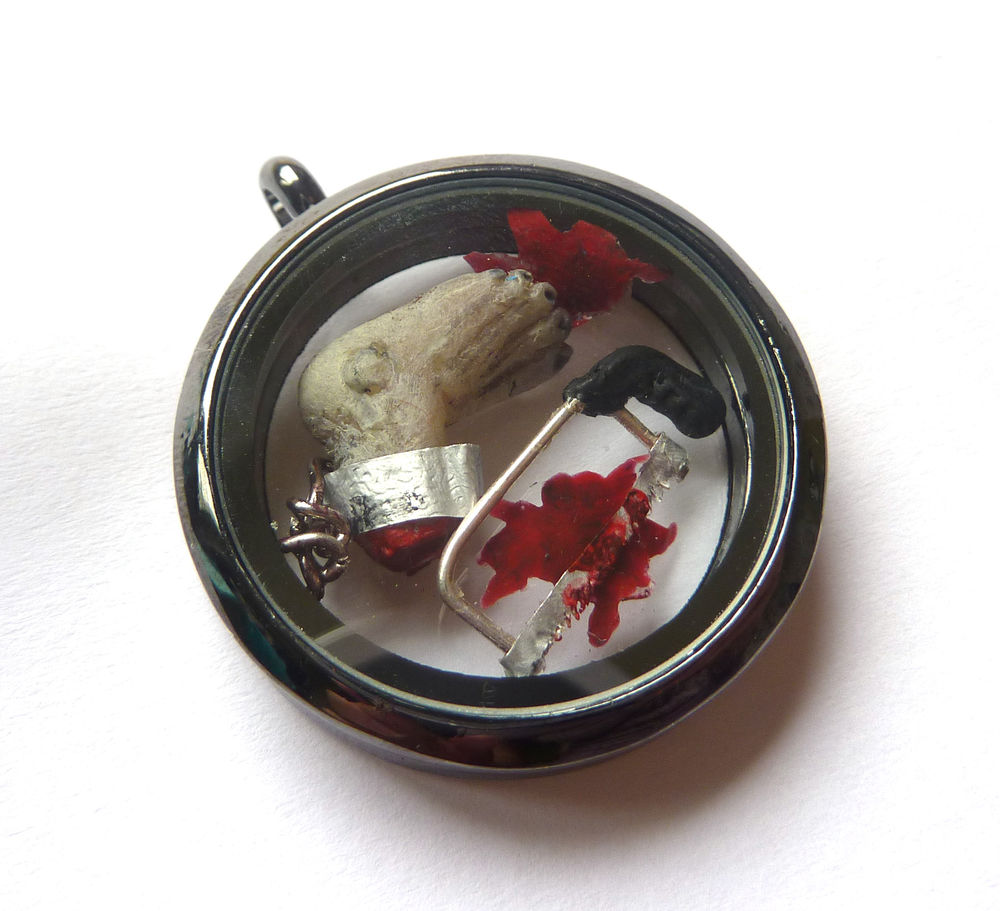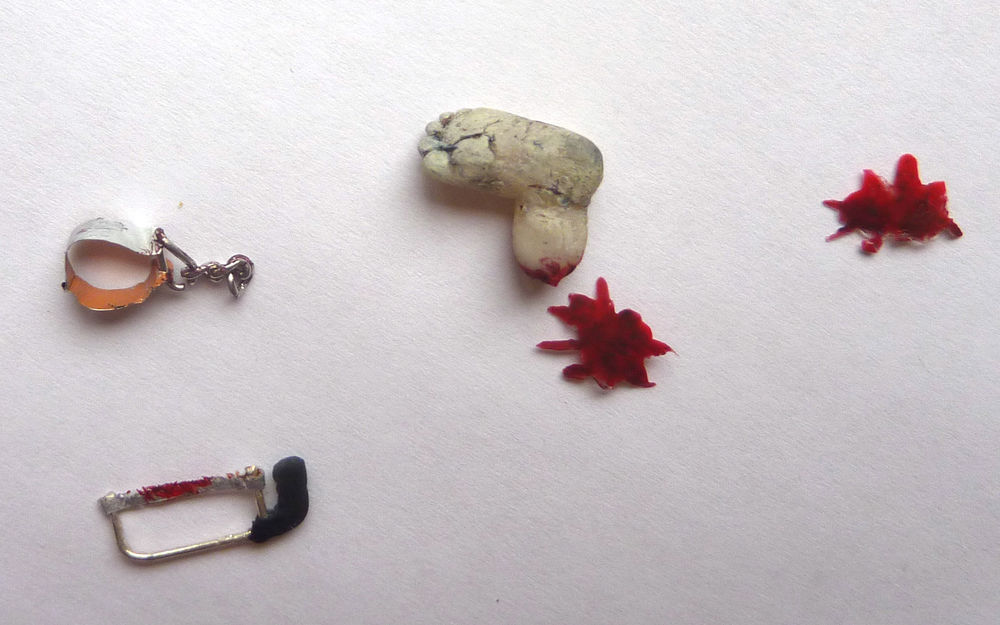 The locket is about 30 mm in diameter - 23 mm inside (a litle less than 1"). Foot is made form clay, saw - clay, wire, foil, paints. Blood is a mix of glue, glossy and paints.
Кулон - 30 мм снаружи, 23 мм внутри. Стопа сантиметра на полтора, флористическая глина. Пила - глина, проволока, фольга, краски. Кровища - смесь красок и клея.
Well, I'm satisfies with my "foot", the customer is also happy, the saw-lover will receive the gift later and I hope she'll love it too =)
В общем, я осталась довольна "ногой", заказчице тоже понравилось, любительница ужасов пока ждёт свой подарок, буду надеяться, ей тоже понравится.
And a couple of earrings to accompany the locket
. Ах да, и парочка простеньких сережек для комплекта - фотка рабочая, крепление временное.
А какой фильм любимый у Вас? Может, тоже есть желание "запузырить" впечатления от любимой киноленты? Ой, я б с удовольствием тот же "Служебный роман" или "Унесенных"... и не только крупно в локет, но и мелко в шарик
And what is your favorite movie? =)
Хочу принять участие в задании
Crazy Lab
"Главное то, что внутри"
https://crazyylab.blogspot.ru/2017/04/blog-post_17.html
Хе-хе-хе, внутри-то =))) самое главное =) действительно, символ фильма, практически копия постера =)