Hi!
It's been already a week since
Homyachok challenge blog
announced a new quilling challenge:
Paintings and ornaments - Росписи и орнаменты
. You have to submit any quilled work inspired by folk art handicrafts. It's a pretty complicated task, but it's really exciting!
At first, when we planned this challenge, we wanted to call it "Russian traditional paintings", but later we thought that worldwide experience would be much better, so pick ANY folk handicraft and join us! I know that there are ladies from India, Nepal and Bangladesh and well as other countried reading my blog, so I sincerely wish you'd join us! Can't wait to see your traditional "folk art" creations!!! =)
And now I'm going to show my "folk art". It's a "seasons' greetings" card inspired by Mezen painting.
Check out some links to find out more about the traditions of the painting:
in English:
http://mezenskaya-rospis.narod.ru/index_en.htm
http://mezenskaya-rospis.narod.ru/symbol_en.htm
in Russian:
http://www.mezenart.ru/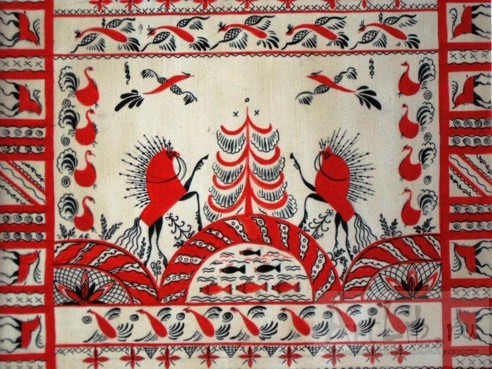 To make a long story short, I'm gonna tell a little about this art.
1) It started in the 19th century, when the folk from the North of Russia who lived by the Mezen river began painting wooden ware in this style: boxes, distaffs, buckets etc.
2) This style is highly symbolical, inspired by ancient rock painting, it reminds of naive and primitive symbols used in pictogram writing. This thing inspired me most, I love symbols =)))
3) Only red and black dyes to be used, no other colors.
4) Every painting is like a story: they have 3 levels, the top, the middle and the bottom. Each level is separeted and associated with the beginning-middle-end or "sky life - earth life - underworld".
5) Most common elements are: squares, diamond shapes and triangles with symbols, symbols of life, love, fertility, eternity etc, horses and deer, some birds, floral ornaments, flowers and trees.
По условию задания, надо немного рассказать о росписи, я не буду утомлять читателей, просто конспективно вынесу основное:
1) Возникла роспись в 19 веке, когда жители деревни Палащелье Архангельской области стали украшать деревянную утварь стилизованной росписью, украшались сундуки, ковши, короба, туеса, прялки и пр.
2) Стиль ооочень символичен, что мне в нем жутко понравилось. Прослеживается влияние наскальной живописи и раннего письма при помощи пиктограмм. Каждая загогулька - "слово", очень интересно!
3) Используются только красные и черные краски.
4) Каждая работа - своя история, традиционно состоит из 3 уровней - начало-середина-конец или "небо-земля-подземный мир", а значит, птицы традиционно могут быть только в небе или на земле, а под землей всякие символы "бесконечности" и "матери-сыры-земли".
5) Наиболее распространенные элементы: квадраты, ромбы и треугольники с символами, символы жизни, бесконечности, плодородия, любви, стихий и т.д., кони и олени, птицы, цветочный и растительный стилизованный орнамент.
I loved the color combo and it reminded me of the Northern (Norwegian?) Christmas wear =) all those knitted sweaters with deer and such =) So I made a winter card:
Used red and black 3 mm strips.
I added some white, 'cause black snow looked so dreary... And that was my mistake - I can't take a photo of that now!!! Either white on white is hardly visible, or red looks very dark =( And there's not much I can fix in a photo editor... So sorry for that =( I thought I'd make a "wow" work and can't really show it off =\
And a little close up of the deer:
I also added a little stickles bling on the "snow" elements.
Well, that's it for today. I have a slight suspection that soon I'm gonna give up Homyachok design team...By little baby's not an infant anymore, she's a one year old highly energetic toddler, HIGHLY! It's great luck if I can have dinner some day... I simply have no free time for those crafts&arts&fun...
Have a great weekend!
And yeah, come join us for the quilling challenge! =)
Or at least
come to see
other designers' creations - they are FABULOUS!