It's the first time ever I tried applying sketch for my layout which I didn't create myself. And I want to take part in
PageMaps challenge
with the following sketch:
And with the colors I used I want to participate in
Paper Secrets' color challenge
: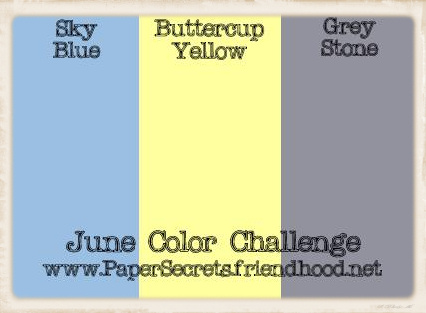 So, it's another layout for my Paris album. During the visit we had an excursion to the Perfume museum "Fragonard" with an opportunity of trying and buying the fragrances.
It was forbidden to take photos inside of the building, so we have the only photo left from that tour: me in front of the museum sniffing the testing stripe. But luckily I have all of those testing stripes - sprayed with different fragrances and signed - collected and stored. You know, it was a year ago, but the stripes still have their aroma!
So, back to the layout:
As a background I used white watercolor paper, which I covered with a piece of plastic bag from the museum - it has a lot of grey and yellow signs "Fragonard"on it. The plastic piece is sewn with zigzag. When I gathered all the material and embellishments I thought they would look too boring and official, so I added some "roughness" and "fault" to it on purpose. Thereupon the zigzag is not regular and straight, but either wide or narrow. =)
The photo is framed with white and light yellow cord. On the photo I wear a blue striped shirt, so understanding the vertical striped ribbon on the sketch literally was natural. I had a blue satin ribbon of matching color, but no stripes on it. So I used puffy gel and heated it - the white stripes are embossed, puffy and corresond with my shirt pretty well =)
The lines on the left side of the sketch I also copied "literally". Remember about the aroma testing stripes? I made a few plastic pockets for them to keep them in place and not to let their fragrances mix. I renewed some stripes (with the perfume I bought there =) ), so keeping them apart was essential - sewing or glueing may not be reliable. I took an old soldering tool and fused the plastic paper pocket creating slots for each stripe. It wasn't easy, but I like the result =) Each pocket is closed and sealed with removeable double-sided tape, and for secure hold I fixed them with blue and yellow brads. This pocket-flap is fixed only with 3 yellow loops on top, so you can lift it, remove the brad, get the stripe, feel the aroma and place it back. I don't know how useful is that, but if I was a kid and found an alike thing in my mom's stash I'd be happy as a clam.
Below the aroma-stripes I placed the journaling stripes of the same size. Journaling says: "Paris is the world capital of fragrance. 'Fragonard' was established in 1926 and since then the perfume for most well-known fashion brands is created here. Excursion to the perfume museum ended with testing and buying. "Belle de nuit" (Beauty of the night) is the most famous trademark of Fragonard; it's told to be loved by 90% of women and 100% of men."
As for the title, it didn't need a crisp pop-up, because there are already at least 10 "Fragonard"s of different sizes on the layout =) And one of them took the perfect place for sketch! The only thing I did was putting the "sun" on the title (I cut it out of yellow foil and sprinkled with golden embossing powder to create a rough and textured look) and repeating the title with tiny rhinestones:
Instead of a butterfly I used a... earring! I don't wear them, I only buy flat metal ones with lace-like appereance to use them on cards and layouts =) The earring with flower pattern should remind everyone that most of the fragrances smell like flowers =) It is fixed with a flower brad. To support it I used my CraftRobo to cut out a matching flower chain: it was cut from plastic and painted with acrylic paints and nail polish.
What else? Also a horizontal velvet light-yellow ribbon.
And a "date" tag - you can pull it:
And a brochure from the musuem with explainations and perfume description will come out =) Another memorabilia kept safe =)
That's it for today. Thanks for looking and your comments will be appreciated!